SCHOLARSHIP AND STUDENT ASSISTANCE PROGRAMS
---
Programs aim to address equity and access by providing direct financial assistance to deserving TVET enrollees across all regions in the country.  The scholarship programs currently being implemented include the following:
2019 Omnibus Guidelines
Private Education Student Financial Assistance (PESFA)
This program was established through Section 8 of Republic Act No. 8545, otherwise known as the Expanded Government Assistance to Students and Teachers in Private Education (GASTPE) Act.  PESFA offers educational grants to qualified and deserving college freshmen both in degree and   non-degree courses.  The program seeks to:
extend financial assistance to marginalized but deserving students in post-secondary non-degree courses;
promote TVET;
contribute to the development of a competent skilled workforce; and
assist private institutions in their development efforts by assuring a steady supply of enrollees to their course offerings.
The PESFA directed the beneficiaries on the choices of careers to the critical skills requirements of in-demand jobs in the labor market. It also allows for equity  distribution of the opportunities made available through government subsidies.
Training for Work Scholarship (TWSP)
This program provides immediate interventions to meet the need for highly critical skills. The program has two-fold objectives:
to purposively drive TVET provision to available jobs through incentives and appropriate training programs that are directly connected to existing jobs for immediate employment, both locally and overseas,
to build and strengthen the capacity and capability of TVET institutions in expanding and improving the delivery of quality, efficient and relevant training programs that meet job requirements, including programs for higher levels of technology.
The program was launched in May 2006 with funding from the Office of the President and mainstreamed in the regular budget in 2008. This program is a response to the clamor of industry to address the critical skills shortages in priority sectors, particularly the Business Process Outsourcing, metals and engineering, construction and tourism, among others.
Implementing Guidelines for the 2017 (TWSP) Allocation for TESDA Technology Institutions (TTIs)
TWSP Physical and Financial Accomplishment Report
2019
2018
2017
2016
2015
2014
2013
Special Training for Employment Program (STEP)
STEP is a community-based specialty training program that addresses the specific skills needs of the communities and promote employment, particularly through entrepreneurial, self-employment and service-oriented activities. Training programs offered are generally short-term or modules based on the Training Regulations promulgated by TESDA. Its objective is to provide skills and training opportunities for the beneficiaries in the barangays/ communities to make them employable and productive.
Both public and private techvoc providers, but mostly local government training centers and TESDA Technology Institutions, deliver the training programs under STEP.
The beneficiaries of STEP receive the following assistance: free training and competency assessment, starter toolkits and training allowance of sixty pesos (Php 60.00) per day for the duration of the training.
The program was introduced only in 2014 in line with thrust of expanding the reach of TVET to the grassroots.
Downloadables
Acknowledgement Receipt annex A
STEP Physical and List of Toolkits
2018
2017
2016
2015
2014
Bottom-up Budgeting (BuB)
In pursuit of attaining the Philippine Development Plan's goal of inclusive growth and poverty reduction, and promoting good governance at the local level, the Human Development and Poverty Reduction Cluster (HDPRC), through the Bottom-up Budgeting (BuB) Oversight Agencies, shall implement the Bottom-up Budgeting (BuB). This program seeks to increase citizen's access to local service delivery through a demand-driven budget planning process and to strengthen government accountability in local public service provision.
The BuB oversight and participating agencies are tasked to ensure the implemetation of priority poverty reduction projects as identified at the city/municipal level through the BuB participatory planning and budgeting process.
It is an approach to the preparation of agency budget proposals, taking into consideration the development needs of cities/municipalities as identified in their respective local poverty action plans that shall be formulated with the strong participation of basic sector organizations and other civil society organizations.
BuB Accomplishment Project Status, Physical and Financial Report
2016
2014-2015
Universal Access to Quality Tertiary Education Act (UAQTEA)
The program was established through Republic Act No. 10931 providing for free tuition and other school fees in State Universities and Colleges (SUCs), Local Universities and Colleges (LUCs) and state-run Technical Vocational Institutions (STVIs), establishing the Tertiary Education Subsidy and Student Loan Program (SLP), strengthening the Unified Student Financial Assistance System for Tertiary Education (UniFAST), and appropriating funds therefor. It is hereby declared that quality education is an inalienable right of all Filipinos and it is the policy of the State to protect and promote the rights of all students to quality education at all levels. The State recognizes the complementary roles of public and private higher education institutions and technical-vocational institutions in the educational system and the invaluable contribution that the private tertiary schools have made and will make to education.
The program aims to:
Provide adequate funding and such other mechanisms to increase the participation rate among all socioeconomic classes in tertiary education;
Provide all Filipinos with equal opportunity to quality tertiary education in both private and public education institutions;
Give priority to learners who are technically-able and who come from poor families;
Ensure the optimized utilization of government resources in education;
Provide adequate guidance and incentives in supporting young Filipinos with their career choices towards the proper development and utilization of human resources; and
Recognize the complementary roles of public and private TVIs in the tertiary education system.
Attachments
---
TVET PROGRAMS
---
In view of the need to provide equitable access and provision of TESD programs to the growing TVET clients, TESDA continues to undertake direct training provisions. There are four training modalities school-based, center-based, enterprised-based and community-based. These are being done with TESDA's infrastructure in place – 57 TESDA administered schools, 60 training center, enterprized-based training through DTS/apprenticeship and community-based training in convergence with the LGU's.
TESDA SUPPORTS TRAINING PROVISION
TESD creates opportunities for people to be responsible and become productive citizens. The need to provide and make accessible relevant TESD compels TESDA to undertake direct training activities at the same time support training activities undertaken by other key players in the TESD sector.
TESDA Technology Institutions are composed of 125 schools, regional, provincial and specialized training centers nationwide which undertake direct training activities for TESDA. The absence of an institution in the area which can provide people equitable access to TESD necessitates TESDA to undertake direct training activities. These TTIs also serve as venues to test new training schemes and are used as laboratories for new technology.
Among TESDA's specialized training centers are the following:
TESDA Women's Center (TWC) seeks to advance the economic status of women through training, entrepreneurship development, gender sensitive policies, programs and projects and research and advocacy. It was established through a grant from the Government of Japan.
Language Skills Institute (LSI ) serves as TESDA's facility for language programs specifically for workers intending to work abroad. The LSI conducts training on workplacecommunication on the language of the country of the worker's destination. There are 35 LSI nationwide offering different language courses which include English, Korean, Mandarin, Japanese and Spanish.
Korea-Philippines IT Training Centers are grant-assisted projects from the Government of the Republic of Korea. These KPITTCs are located at the Polytechnic University in Novaliches, Quezon City and at the Regional Skills Development Centers in Guiguinto, Bulacan and Tibungco, Davao City, respectively.
---
COMPETENCY STANDARDS DEVELOPMENT
---
TESDA develops competency standards for middle-level skilled workers. These are in the form of units of competency containing descriptors for acceptable work performance. These are packaged into qualifications corresponding to critical jobs and occupations in the priority industry sectors. The qualifications correspond to a specific levels in the Philippine TVET Qualifications Framework (PTQF).
The competency standards and qualifications, together with training standards and assessment arrangements comprise the national training regulations (TR) promulgated by the TESDA Board. The TRs serve as basis for registration and delivery of TVET programs, competency assessment and certification and development of curricula for the specific qualification.
---
ASSESSMENT AND CERTIFICATION
---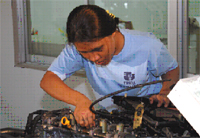 TESDA pursues the assessment and certification of the competencies of the middle-level skilled workers through Philippine TVET Competency Assessment and Certification System (PTCACS). The assessment process seeks to determine whether the graduate or worker can perform to the standards expected in the workplace based on the defined competency standards. Certification is provided to those who meets the competency standards. This ensures the productivity, quality and global competitiveness of the middle-level workers.
TESDA has a Registry of Certified Workers which provides information on the pool of certified workers for certain occupations nationwide.
TESDA also has accredited assessment centers as well as the competency assessors who conduct competency assessment process for persons applying for certification.
Click here to view the FREQUENTLY ASKED QUESTIONS (FAQs) and ANSWERS ON THE TESDA ASSESSMENT AND CERTIFICATION PROGRAM
a.   General Requirements and Procedures in Applying for Assessment and Certification (National Certificate (NC) / Certificate of Competency (COC))
1. 
New Applicant
2. 
Renewal
3. 
Lost/Damaged Certificate
b
.    Lists
1.  
List of TESDA Accredited Assessment Centers
c.     Online Verification Registries 
1.  Registry of Certified Workers 
2.  Maritime Certificate (COC) Verification
3.  Registry of TESDA Accredited Trainors/Assessors (Coming Soon)
---
PROGRAM REGISTRATION AND ACCREDITATION
---
Program registration in UTPRAS is the mandatory registration of Technical Vocational Education and Training (TVET) programs with TESDA. It is the system that ensures compliance of Technical Vocational Institutions (TVIs) with the minimum requirements as prescribed under the promulgated training regulation to include among others curricular programs, faculty and staff qualifications, physical sites and facilities, tools, equipment, supplies and materials and similar requirements prior to the issuance of the government authority to offer or undertake technical vocational education programs.
A TVET institution has to comply with the requirements of registration prior to its offering of a program. Upon completion of all the requirements, an institution is issued a Certificate of Program Registration (CoPR) and the program is officially listed in the TESDA Compendium of Registered Programs. The program is subjected to a compliance audit and in some instances surveillance upon receipt of complaint by TESDA.
Frequently Asked Questions on Unified TVET Program Registration and Accreditation System (UTPRAS)

UTPRAS Downloadable Forms

How to Apply for TVET Program Registration (UPTRAS Registration)
---
NATIONAL TECHNICAL EDUCATION AND SKILLS DEVELOPMENT PLAN (NTESDP) 2018-2022
---
Vibrant Quality TVET for Decent Work and Sustainable Inclusive Growth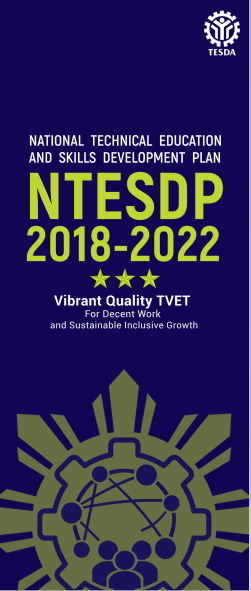 Background: Why create a Plan in the first place?
Download the NTESDP here.
TESDA is bound by law to create a medium-term (six-year) Plan for middle-level workforce that will guide all stakeholders – government, industry, academe, local and international organizations, students, and the public – for the development of the middle-level workforce.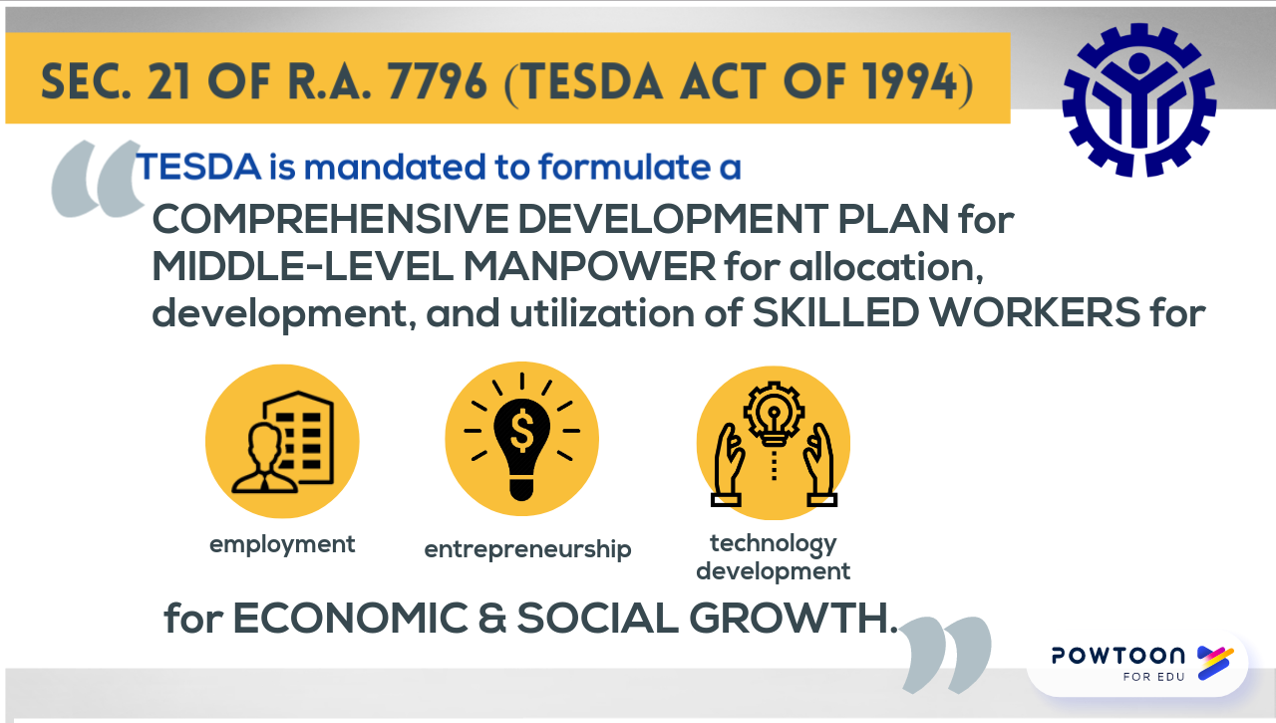 The NTESDP 2018-2022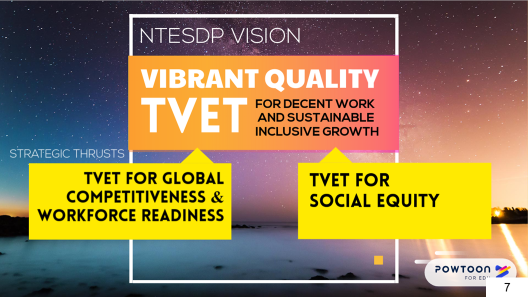 True to this mandate, the TESDA, in cooperation with its partners and relevant sectors, has formulated the National Technical Education and Skills Development Plan 2018-2022, the fourth in a cycle of such plans, to mobilize and encourage the full participation of industries, the labor sector, government units and relevant educational institutions in the development of the Philippines' human capital resources.
The National Technical Education and Skills Development Plan 2018-2022, NTESDP for brevity, serves as a compass that informs the Technical Vocational Education and Training (TVET) actors, movers, and leaders in coming up with responsive policies and implementing programs for the sector, and to support the broader development goals and objectives of the national government.
The NTESDP envisions a Vibrant Quality TVET for Decent Work and Sustainable Inclusive Growth. This overarching theme is the rallying cry that primes the TESDA and its partners to achieve the NTESDP's primary objective of galvanizing and strengthening the TVET sector through a Two-Pronged Strategic Thrust: (1) Global Competitiveness and Workforce Readiness; and (2) Social Equity for Workforce Inclusion and Poverty Reduction.
Planning Environment
In formulating the Plan, TESDA identified, reviewed, and analyzed external and internal environments and global and local factors that affect the TVET sector. It aligned the Plan with global, national, and sectoral development plans, national education legislation, and international standards referencing systems. The planners drew contemporary lessons from labor and employment realities, such as migration; paradigm shifts in technology, particularly the fourth industrial revolution (4IR); ecology; climate change and green economy; sustainability; and gender and social equity advocacies.
The TVET Sector
Generally, the Philippines's TVET sector has been experiencing healthy growth. But while it receives only one percent of Gross Domestic Product in government funding support, TESDA's budget more than doubled from P2.7 billion in 2012 to P6.4 billion in 2016.
Scholarship funding has boosted enrollment and produced positive results, with the average employment rate of TVET graduates with scholarships posting higher than the average employment rate for all TVET graduates.
TVET providers are likewise enjoying unprecedented growth. In 2016, there were already 4,075 private and public institutions, compared to only 3,381 in 2007. Between 2010 and 2016, institution-based training had recorded 1.023 million enrollees, followed by community-based training with 824,000. The growth in enrollment was fueled by community-based or barangay-oriented programs. Enterprise-based training was the most successful training modality in terms of employment, but this training modality has not gained traction, with enrollees only reaching 77,000.
Further, TVET is gaining more attention as the education sector evolves and develops more sophistication, starting with the K to 12 program and onto international referencing initiatives and agreements, like the ASEAN Qualifications Framework and other mutual recognition systems. These are creating opportunities to expand TVET capacity and performance, both as an education infrastructure and a human capital development platform.
TVET has also found a place in certain subsectors of the labor and employment market. Today, TVET graduates are successfully employed in such sectors as (1) tourism (hotels and restaurants); (2) ICT; (3) health, social, community, and other services; (4) electronics; and (5) metals and engineering. The growth of certain industries like tourism, construction, and ICT is certainly benefiting TVET as these industries require more skilled workers.
As to TESDA, it has benefitted from the support of industries which have helped the Authority develop a total of 264 Training Regulations (TRs) led by construction, which has 43 TRs. Relative to this, TESDA is ensuring quality standards for providers and trainers as part of its mandate.
NTESDP's Key Employment Generators
The NTESDP 2018-2022 has identified the country's key employment generators and divided these into three groups.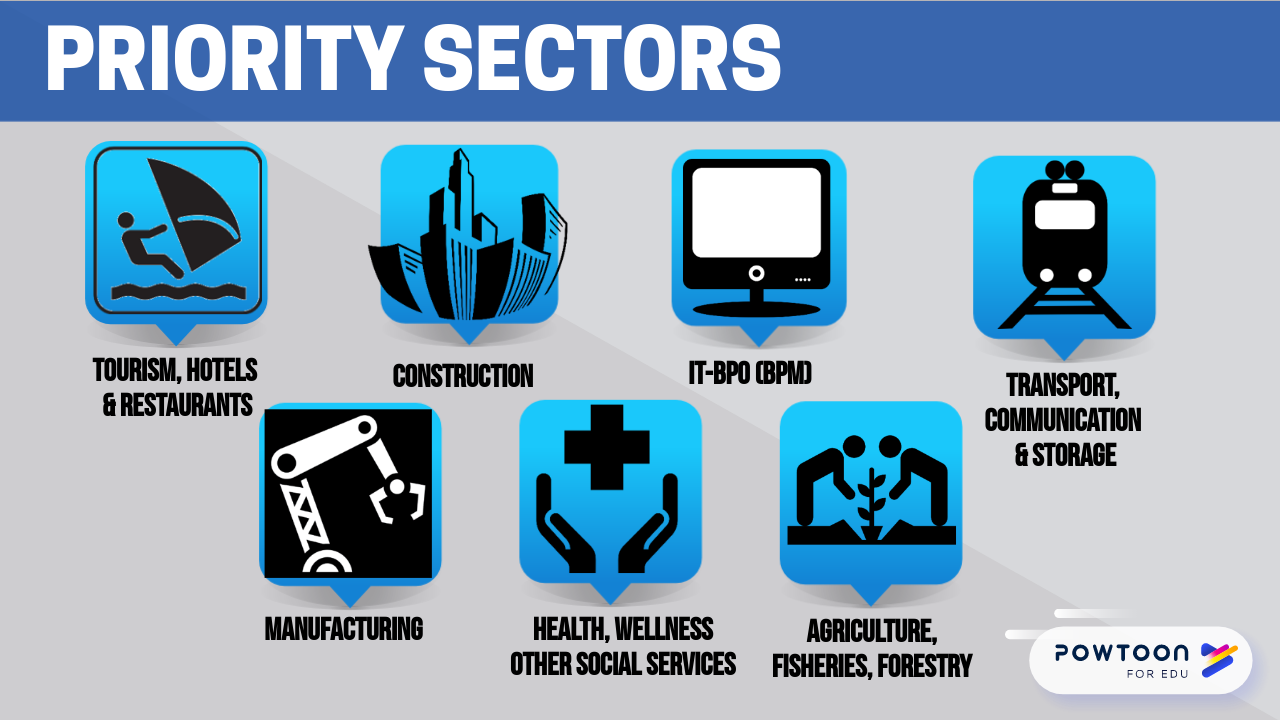 The first group consists of industries that have large employment bases and are growing very rapidly. These industries are expected to create the most number of jobs during the Plan period. These are tourism/hotels/restaurants; construction; IT-BPO (IT-BPM); and transport, communication and storage.
The second group consists of industries that have large employment bases but have exhibited negative or minimal growth rate in the past. However, since these industries are important to the economy in terms of value-added and employment, the government wants to revitalize and strengthen them. These are agriculture; fisheries and forestry, including agro-processing; and manufacturing. For the latter, food manufacturing is the leader, posting a 40 percent share of manufacturing gross value-added. It is followed by electronics which accounts for 50 percent of Philippine exports.
The third group is composed of industries in health, wellness and other social services with high growth rates and good economic multiplier effects.
Problems and Challenges
The NTESDP 2018-2022 has identified problem areas that challenge the TVET sector.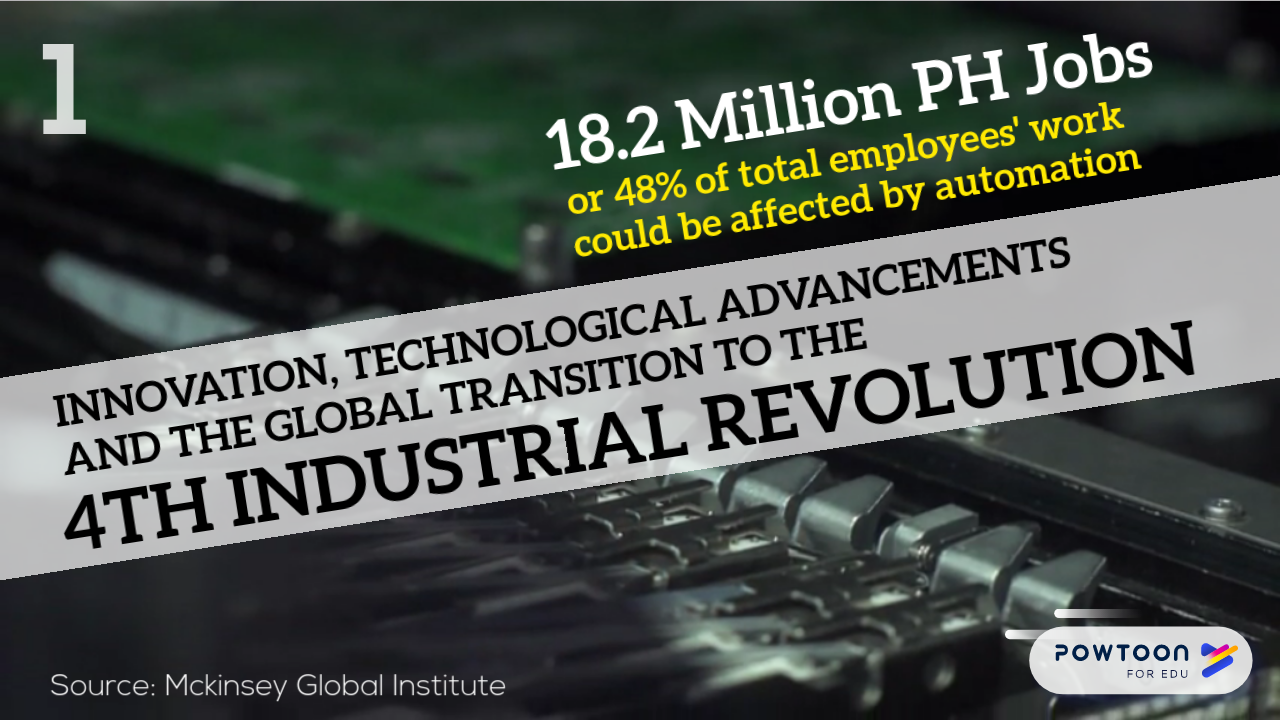 The 4IR and rapid technological advancements are seen by experts to make many jobs obsolete. This would make it difficult for the country's TVET providers to cope and catch up with the rapid pace of innovation, technological change, and advanced workforce skills requirements
Also a problem area is the low employability of Philippine TVET graduates, a mere 65 percent. TVET providers face the perennial criticism that they are providing and producing low level skills and technical education. This reality spills over to the labor economy which is characterized by the prevalence of low-value work compared to mid- to high-value jobs in a ratio of 70:30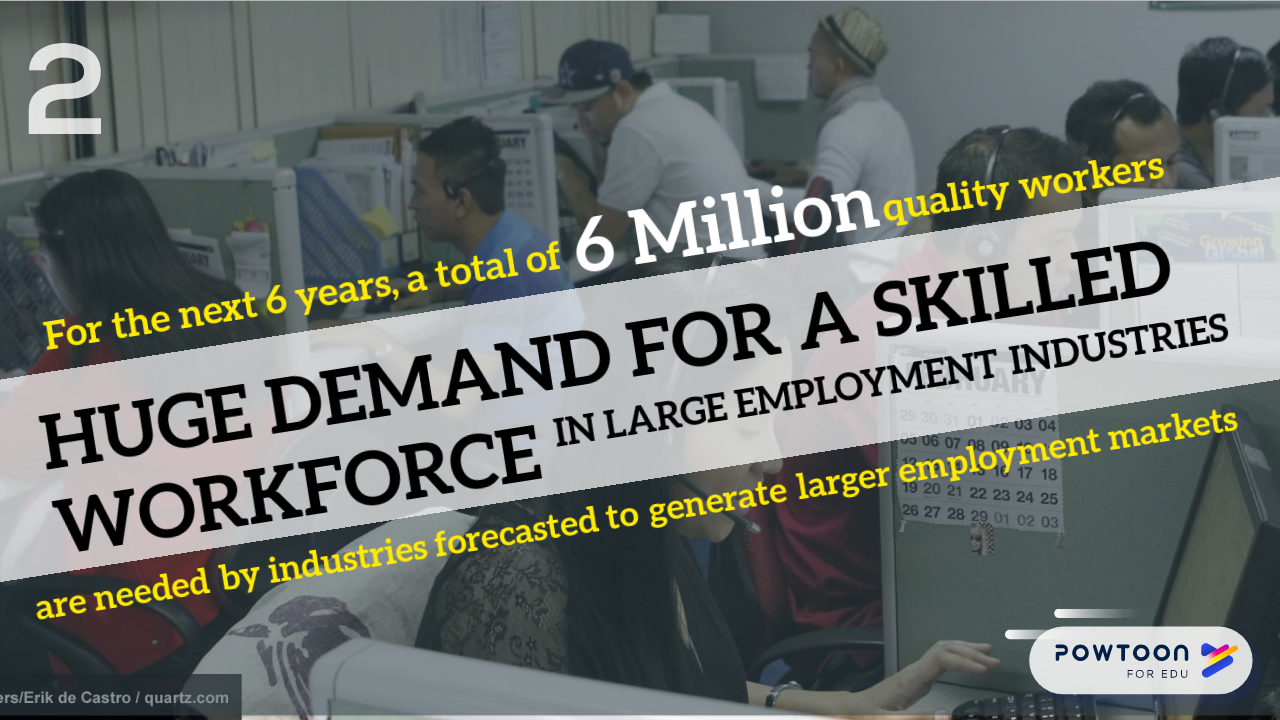 The full implementation of tech-voc courses under the K to 12 program has aggravated the lack of facilities and equipment, qualified trainers, and assessors in the sector, another problem area. As the Philippine TVET sector is largely supply-driven, this reality adds to the job and skills mismatch and under-employment.
The Filipino workers' out-migration is also creating a brain and brawn drain affecting the pool of qualified and skilled workers. In 2013, there were 10.2 million Filipinos overseas. In addition, there has been a drop in industry enterprises participating in TVET, demonstrated by the low enrollment of enterprise-based modality training even if it is the most successful modality in terms of employability, with an average employment rate of 68.9 percent.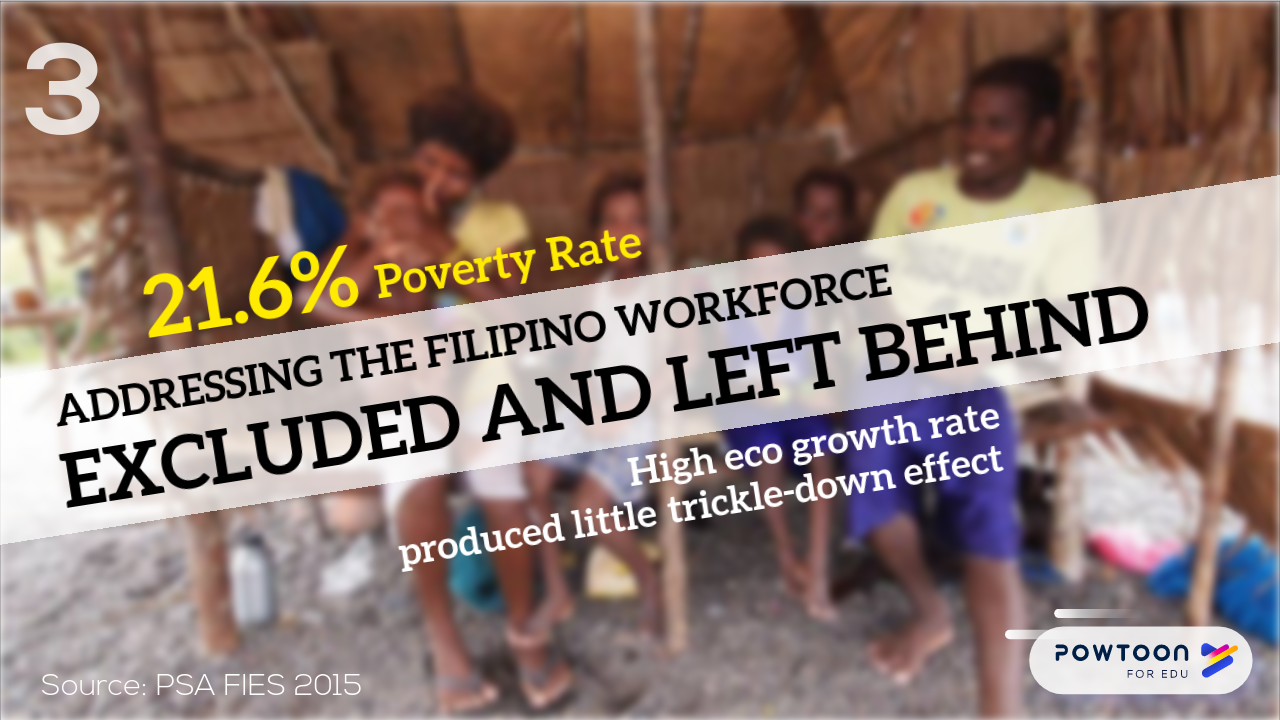 Access to TVET also poses a challenge. Limited funding and other resource limitations contribute to certain sectors not being attended to and reached by TVET. One such sector is the marginalized and disadvantaged poor, which government data in 2015 recorded at 21.6 percent.
NTESDP Objectives
To address these problem areas and challenges, the NTESDP 2018-2022, has set five broad objectives:
Create a conducive and enabling environment for the development and quality service delivery of the TVET sector;
Prepare the Philippine workforce for the challenges posed by the Fourth Industrial Revolution;
Assure industries with high economic and employment growth potentials and provide them the required quantity of quality workforce;
Directly and more vigorously address workforce needs of the basic sectors and the disadvantaged; and
Instill values and integrity in the conduct and delivery of TVET in the whole sector
The Strategic Responses
The achievement of these objectives is recognized to pave the way for changes on how the Philippines should view the world of work and influence and create new ways of thinking, learning, and working. The TESDA recognizes that this world of work demands more knowledgeable and skilled workforce, innovative and sustainable approaches, globally competitive standards, and ease of access and mobility for TVET stakeholders. The NTESDP is envisioned to address these demands. It has outlined strategic responses to address the five objectives. These are: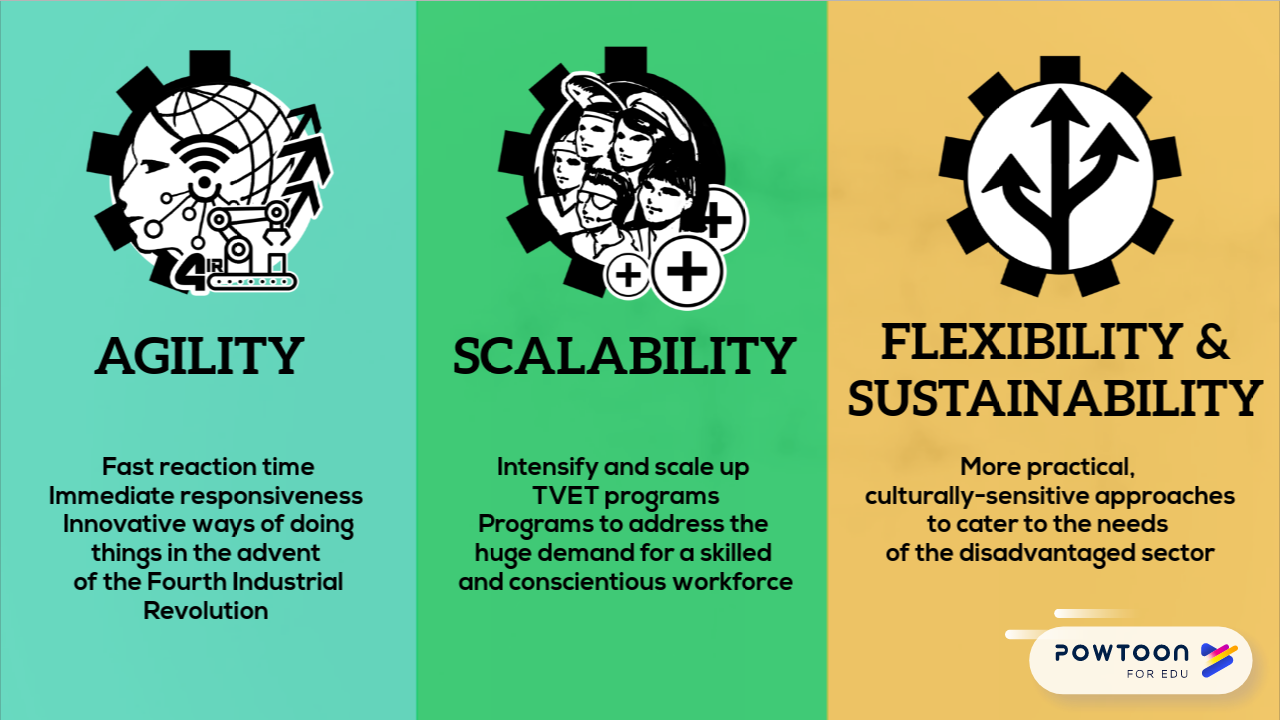 TVET with Agility—to prepare the Philippine workforce for global competitiveness and future world of work;
TVET with Scalability—to deliver high quantity job-ready, quality workforce; and
TVET with Flexibility and Sustainability for social equity and economic inclusion.
These strategic responses are resolutely supported by organizational initiatives, as follows:
 TVET with Conducive and enabling environment, for development and quality service delivery; and
TVET with Integrity, to instill sector credibility and client confidence.
These responses are designed to allow TVET to be vigilant and adaptable to changes in the sector. The NTESDP focuses on the preparation and anticipation of stakeholders' needs through skills forecasting and anticipation and other research and development approaches; close engagement with clients to keep pace with their demands for the world of work and to be responsive with the needs of society in general; and the development of a comprehensive, inclusive and equitable service delivery to all Filipinos.
The NTESDP emphasizes convergence and collaboration of government units, industries, the academe, and relevant organizations for a successful, holistic service output.
TESDA's Commitment
The TESDA, together with the TVET sector, commits to address the issues, problems, and gaps culled from the lessons of the previous Plans in order for the sector to remain relevant. In sum, the NTESDP 2018-2022 aspires to pursue and achieve Quality TVET for All.
Training Regulations (TR) – a TESDA-promulgated document that serves as basis for which the competency-based curriculum and instructional materials and competency assessment tools are developed. This document represents a specific qualification. It defines the competency standards for a national qualification and how such qualification can be gained, assessed and be given recognition.